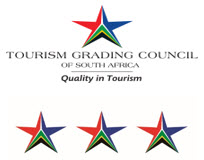 S'Tiba Guest House
Category: B&B Guest House Style
Our Assessor visited your property on 22-10-2013 and compiled the following report:
Check-In
My call to Mpho returned promptly – friendly, informative communications. VG brown signage and smaller en route signs (check the one pointing towards Anglican Church); GD wall signage (consider side-on stand for S'Tiba sign); Reception pointer sign suggested in parking area. Smiling welcome in the drive by Lerato. Formal-style Reception lobby with counter (guest seating?). VG Registration form incl ID/PP number. Cancellation policy not noted. Be mindful of the Consumer Protection Act and take professional legal advice if required.
General Efficiency
Logo'd Reception entrance mat, attractive glass door safety decal logo's, framed accreditations & all current licences all create a professional impression. A5 flyers & business cards. Owners live on adjacent property and entire triple-storey GH solely for guest use. Use of CFLs and LED globes. This very clean, very neat property offers a first impression of VG levels of general efficiency. As discussed, Mpho will check that the Guest House insurance includes sufficient Public Liability cover.
Cleanliness
Very neat & organised throughout. Very clean bedrooms & bathrooms: fresh clean bed linen & softs, polished furniture & floor tiling, clean grouting & white ceilings above showers, polished mirrors and fresh, soft bath linen. Very clean kitchen & neatly packed. Suggest extra blankets are laundered and then stored in bedroom BICs in their plastic zip bags.
Maintenance
Generally in very sound condition, though some small finishing still to come: some patchy/varied colour exterior paintwork; M+F WCs at Venue – patchy paintwork, window coverings to come. Check WC seats for any very small wear starting – Tippex as discussed for longer wear. Rm 15 – some tiling behind WC to be finished.
Friendliness
Both Jane and Grace are warm and friendly yet proper in their interaction with people.
Local Knowledge
VG directions given by Philip. No other brochures or visitor information noted. No Room Directories indicating area facilities (fuel, Spar, ATM etc) or attractions.
Service Efficiency
Not an overnight stay; cannot comment fully. Jane & Grace were on site to assist me – welcomed and shown the facilities – informative and obliging, showing VG knowledge of the operations.
Bedrooms (Type 1)
Varied sizes and configurations, all of a VG size with one spacious Executive room; no awkward areas as per rooms seen. All well coordinated: use of neutral tones, well-painted walls & white ceilings (slab), tiled flooring, framed print, VG privacy curtains & good unlined tie-backs. Log-style headboard, bedside stands, desk/vanity/mirror + upholstered-seat stool; generous BICs with extra blanket, uniform hangers (present them neatly to one side). Rattan-style occasional chairs + cushions, table. Wall-mounted, standard size LEDs – SABC/e channels only. VG ceiling light fitting; bedside lamps each side (woven shades tend to reduce light levels); VG natural light. Standing fan, underfloor heating. VG base sets; valance, fitted + flat sheets, protector, VG overhang-length duvet, 2 pillows pp (suggest pillow protectors on ALL inners – some without). Consider bed make-up with flat sheet folded over duvet to prevent body fluids being absorbed into duvet inner. One or two floor mats. Large hooks on the wall are a convenient addition for overnight guests. Executive room with mini bar – suggest raise off floor level for comfort.
Bathrooms (Type 1)
All rooms en suite, 3-piece shower units. Similarly appointed & coordinated: use of VG floor & wall tiling, professionally painted; very clean grouting, shower curtains & traps. Good size for 1 person. Pedestal basin, VG mirror, WCs in sound condition. Polished chrome fittings. Suggest storage shelf for toiletries bag(s); large hook(s) are useful. Opening window with VG waterproof roller blind. Suggest Hot & Cold indicator beads/buttons be visible on shower mixers – prevents water wastage.
Public Areas
Good size Reception lobby – leads to separate Dining Room; all areas with VG floor tiling; staircase with aluminium nosings, balustrade/rail, glass window inset (2nd floor window could get damaged?); landings with occasional seating – attractive; balcony with table/chairs & balustrade. 3rd floor with venue incl VG lounge area & bar; own WCs; vibey red walls, contemporary stack chairs, snooker table; a number of plugpoints, extra lighting; sound speakers. Mushroom heaters; canvas window blinds.
Building Exterior
Triple-storey, thatched building – no additional decor items (could soften the view of the expansive walls?); various stages of painting in places, though the framing of the windows in dark grey is a nice touch; seems to be of sound construction, use of VG aluminium window/door frames; VG tiled, covered Reception entrance with large, logod dirt-trapper, planters. Privacy walling between GH & owners' house – consider adding a smooth finish to top of this walling?
Parking
VG, sound condition tarred parking apron with demarcations; well lit, close to Reception. Secure. No covered parking.
Grounds & Gardens
The entire stand is surfaced to provide parking etc – very neat, no litter or clutter; use of some well-maintained planters. Grassed verge (some longer grass) with recently-planted palms, standard roses.
Security
Fully-walled property + solid-style VG entrance gates with lighting; electric fencing, gooseneck buzzer, exterior beam fitting noted; fire hose, extinguishers, fire signage, smoke detectors + assembly-point noted; lightning conductor. Laminated room rules with owners' cell numbers; strongly suggest each room and Reception has local emergency numbers – police station, ambulance, clinic/doctor/dentist etc; an evacuation pictogram showing room location/exit & assembly point is also suggested. Strongly suggest a safety deposit box for each room.
Food Quality
Not experienced. Separate dining room: use of the same log-style tables with slate-tiled tops, chairs with upholstered seats; matching buffet stations at the serving hatch to the adjacent kitchen (with wooden-style Venetian covers). Kellogs-style cereal dispensers. As seen, matching white crockery in sound condition, good polished s/s cutlery (consider drawer divisions to keep forks, spoons etc separated). As advised, cold buffet + hot plated breakfast at extra fee – R55.00 (rates sheet indicated R50.00?). Dinner on request – 3-course + beverage at R80.00. Table setting to be seen next year.
Overall
The establishment currently meets the minimum requirements for the proposed Highly Recommended endorsement in the category B&B/Guest House-style; subject to the approval of the committee.
Commendations
Operating since end-2011, Philip and Mpho Mnisi provide an efficiently-operated, very comfortably-appointed establishment which offers VG levels of cleanliness & hygiene. The spacious, 3rd-floor conference & functions venue is vibey and well appointed. Jane & Grace's smiling, warm attitudes are appreciated.
Concerns
Various paint finishes on the exterior walls tend to create a lower first impression. Some rooms require bedside mats at each sleeping space (takes dust off feet & gives winter warmth). Bouquet DSTV would be beneficial. Smoke detector beeping – check batteries? At least a central facility for guests to send/receive email should be considered, particularly for the conference market. Staff training on fire and emergency procedures should be undertaken.
Web Review
Informative, well-designed web site. Suggest that as both cell numbers are advertised on the site, each of these is answered with the establishment name at all times.